Let's sit together
Our comfortable lounge invites you to have a short break or maybe a meeting. You can also relax and sit together, watch TV or listen to music.
@Max where is the Switch?
The well being of our customers and employees is a vital point in the company philosophy. If you enter the building of Green Testing Lab you come into the lounge. Take time for relaxing, testing is a hard and busy job.
Follow us on:
Listen to music
Have a meeting
Watch a movie
Just relax after a hard test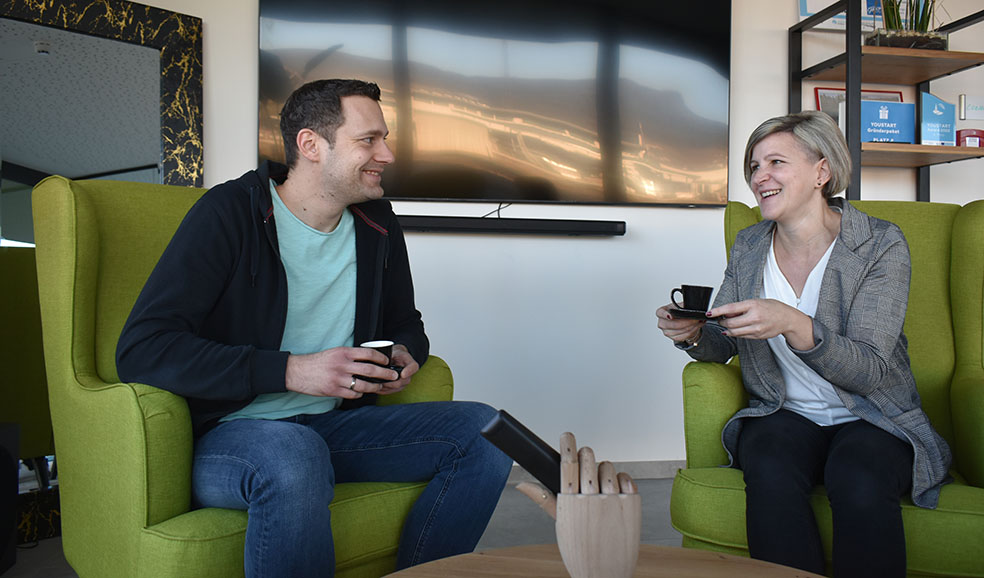 Take a coffee
On the picture you can see our testmanager Patrick Ehrenhöfer and our Head of Finance and Marketing Elisabeth Neuberger. What you cannot see on the picture is, that the cups are empty. This picture was only taken for this article. Nevertheless, you have the feeling, that they had fun during the photo shooting.
If the Lounge is not the right place for you, we have our Project Room. Our project room is only for customers. In this room you can put on your work clothes and store your personal things in a locker. You can use this Project Room also as a meeting room to discuss test setups and test results with your colleagues or the customer immediately after or during the test.

Elisabeth Neuberger
Head of Finance and Marketing